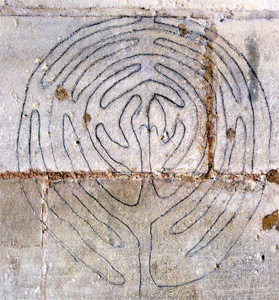 Left you see a drawing of a labyrinth in the cathedral of Saint Pierre in Poitiers, France. There is however, something peculiar about this labyrinth. There is a mistake in it. This is, I think, in fact unthinkable as the dealing with labyrinths in churches was such a precise work, that the mistake may have been caused by restauration work in later ages.
For more on the cathedral, see www padrepardo.org/Poitiers-0.swf.

More on labyrinths in churches is France will be shown on these pages in the near future.